Level 4 & 5 Diploma in Accounting & Finance (University Year 1 & 2)
£ 2500 per level or £ 4500 for two levels together
Progress onto University final Year
The level 4 Diploma in Human Resource Management and the level 5 Extended Diploma in Management are a 240 credit course designed to provide learners with the skills they will need to succeed in management, with a specific focus on Human Resources within medium to large businesses. These are valuable skills to have, and can be used to open up opportunities at a huge variety of employers – from healthcare to hospitality, banking to broadcasting, this course can be your way of preparing for a career at any number of organisations.
The Human Resource Management course at level 4 and 5 is equivalent to the first two years of an undergraduate course, allowing learners to progress onto the final year of an undergraduate degree programme at a University.
This course is made up of 10 Level 4 modules and 10 level 5 modules, each of which will be assessed by one multiple choice exam and written assignments (10 assignments at level 4 and 8 assignments at level 5). To help you study for these assessments, our team of expert academics have designed a series of exclusive, comprehensive lessons for online study. This material will cover everything you need to know and can be accessed anytime and anywhere.
Each module of the course consists of approximately 40 guided learning hours of material with an additional 30-50 hours of optional learning material. These materials are comprised of interactive exercises, further readings and internet resources.
Level 4 Sample Certificate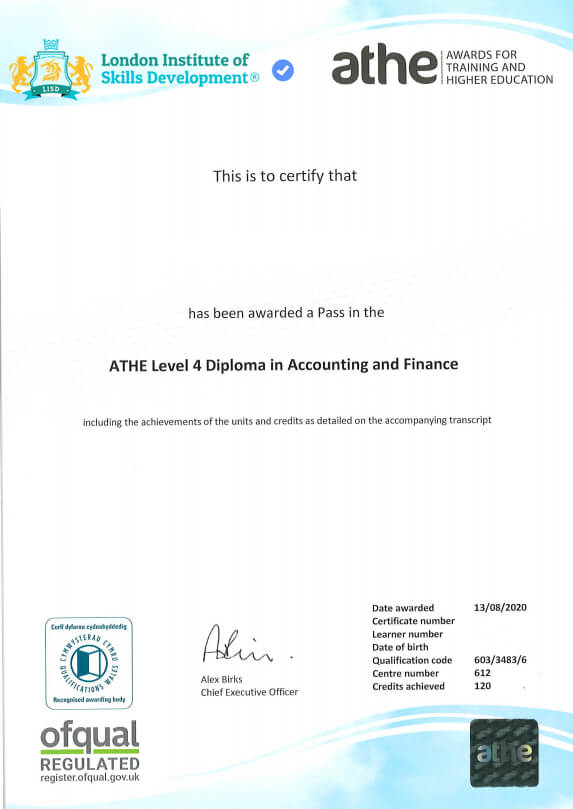 London Institute of Skills Development, U.K